Jupiter Smyrna
from https://commons.wikimedia.org/wiki/File:Jupiter_Smyrna_Louvre_Ma13.jpg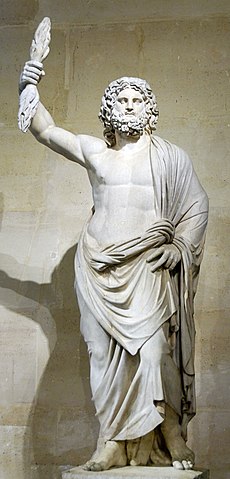 Artist

Unknown

Title
French: Jupiter de Smyrne
Jupiter of Smyrna
Object type
Statue
Description

English:

Statue of a male deity, brought to Louis XIV and restored as a Zeus ca. 1686 by Pierre Granier, who added the arm raising the thunderbolt.

Français:

Statue d'une divinité masculine, envoyée à Louis XIV et restaurée en Zeus, vers 1686, par Pierre Granier, lequel ajouta le bras tenant le foudre.

Date
circa 250 AD
Medium
marble
Dimensions
Height: 234 cm (92.1 in).
Current location
Antiquités romaines, room A: salle du Manège. Denon, ground floor.
This work is part of the collections of the Louvre (Department of Greek, Etruscan, and Roman Antiquities).
Accession number
Ma 13, MR 255
Object history

: excavated. Place: Smyrna.
transferred to Louis XIV of France, Palace of Versailles

: confiscated
References
Musée du Louvre, Atlas database: entry 27483 Joconde database: [1]
Photograph +/−
Date
Photographer
Marie-Lan Nguyen
Source

Own work

Permission
(Reusing this file)

I, the copyright holder of this work, release this work into the public domain. This applies worldwide.
In some countries this may not be legally possible; if so:
I grant anyone the right to use this work for any purpose, without any conditions, unless such conditions are required by law.
The Universal Path
of Spirituality
Copyright 2019
universal-path.org