Herakles and Geryon
from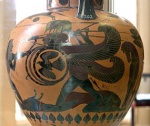 Artist

English: Inscription Painter

Description
Dimensions
H. 41 cm (16 in.)
Current location
Accession number

De Ridder n. 202

Credit line
Feoni, Magnoncourt and Luynes Collection; gift, 1862
References
CVA France 7, III E, pl. 24, num. 1–4 & pl. 25
Source/Photographer
User:Bibi Saint-Pol, own work, 2007-05-25
Other versions
Licensing
I, the copyright holder of this work, release this work into the public domain. This applies worldwide.
In some countries this may not be legally possible; if so:
I grant anyone the right to use this work for any purpose, without any conditions, unless such conditions are required by law.
The Universal Path
of Spirituality
Copyright 2020
universal-path.org
Latest Blocked Spammers
Log file empty or logging feature disabled.
10 Visitors and 0 robots online currently