Ephesian Artemis
from https://commons.wikimedia.org/wiki/File:Ephesian_Artemis_,_125-175_AD,_Ephesus_Museum,_Sel%C3%A7uk,_Turkey_%2813283252933%29.jpg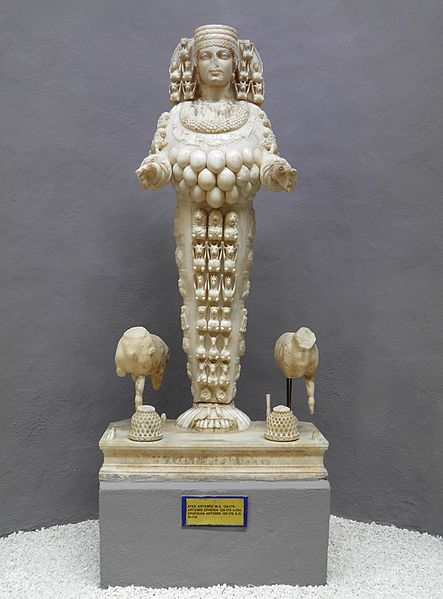 Lizenz


Diese Datei ist unter der Creative-Commons-Lizenz "Namensnennung – Weitergabe unter gleichen Bedingungen 2.0 generisch" (US-amerikanisch) lizenziert.

Dieses Werk darf von dir

verbreitet werden – vervielfältigt, verbreitet und öffentlich zugänglich gemacht werden
neu zusammengestellt werden – abgewandelt und bearbeitet werden

Zu den folgenden Bedingungen:

Namensnennung – Du musst den Namen des Autors oder Rechteinhabers in der von ihm festgelegten Weise nennen (aber nicht so, dass es so aussieht, als würde er dich oder deine Verwendung des Werks unterstützen).
Weitergabe unter gleichen Bedingungen – Wenn du das lizenzierte Werk bzw. den lizenzierten Inhalt bearbeitest, abwandelst oder in anderer Weise erkennbar als Grundlage für eigenes Schaffen verwendest, darfst du die daraufhin neu entstandenen Werke bzw. Inhalte nur unter Verwendung von Lizenzbedingungen weitergeben, die mit denen dieses Lizenzvertrages identisch, vergleichbar oder kompatibel sind.
The Universal Doctrine
The Universal Path
of Spirituality
Copyright 2021
universal-path.org
Latest Blocked Spammers
Log file empty or logging feature disabled.